Anti-Aging Micro-current Services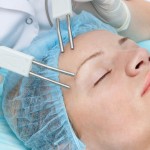 Micro-current is a non-surgical facial sculpting technique that's low in cost and painless for those that want results similar to surgical cosmetic treatments. Vena's Skin & Body Treatments uses a "secret formula" which stimulates 32 of the 53 facial muscles through traditional acupuncture points on the face. It is the best alternative for women who wish to get back their youthful look without extensive surgery.
Series of 5, twice weekly: $375.00
Micro-current is a physical therapy modality that has been in use for more than 16 years. The benefits of the procedure include:
Reducing fine lines and wrinkles
Restoring the flow of youthful skin
Visibly firming, contouring and lifting overall droop
Call or email Vena for your appointment today!