Are you following me on

 Facebook? You can get $10.00 off a 60-minute therapeutic massage (which includes warm stones) simply by liking my page and mentioning the Facebook discount when you book your next appointment! Call today 408-250-1188!
Vena's Skin & Body Treatments offers the following massage treatments:
Swedish

Thai Herbal Ball Treatment
New Bamboo Fusion Massage Treatment – a luxurious new spa treatment. Using warm bamboo sticks to massage the body.
Benefits of Bamboo Fusion:
Brings an extreme sensation of relaxation and well-being
Reduces Tension
Makes skin more supple
Relieves tightness in muscles and tendons
Stimulates the flow of blood and lymph
Regenerates and revitalizes
Relaxes the body and mind
Swedish Massage
A body massage using continuous, long effleurage movements and petrissage (kneading) to reach deeper tissue in addition to stretching to relax the muscles.
60 Minutes: $80.00
60 Minute Bamboo Fusion $85.00
90 Minutes: $105.00
90 Minute Bamboo Fusion $110.00
30 Minutes: $55.00
Add on LED Light Therapy $25.00 – The LED Light is positioned where the pain or stiffness is being experienced. The LED therapy begins to work on the problem area while the masseuse begins bodywork elsewhere.
Contact Vena for your appointment today!
Thai Herbal Ball Treatment: 90 Minutes $120.00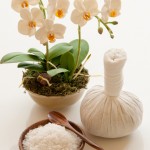 Thai Herbal Balls are blended with 12 herbal ingredients specifically designed to balance the function of the body organs. Herbal Ball Treatments also call upon Lanna Renaissance's cold extract virgin tropical coconut oil, which soothes complex skin, leaving it silky soft and moisturized with aromatic healthy radiance.
Benefits of the Thai Herbal Ball Treatment include:
Improving energy circulation (PRANA)
Improving blood circulation
Relieving blockages and tension in the muscles
Relieving skin problems like allergies, joint pain and heavy legs
Preventing the skin from bruising
Improving skin complexion