Procell Micro-Needling & Stem Cell Therapy was developed in America.
Procell improves the appearance of fine lines, wrinkles, uneven skin tone, acne & acne scarring. It also improves the clinical health of your skin by stimulating a rejuvenation cascade that your body already has. Procell just turns it on. See below before and after pictures. Number of treatments range greatly depending on what we are treating.
For light anti-aging treatments – 1-2 treatments may be sufficient.
For deeper wrinkles and acne scarring – 4-5 treatments may be required to achieve desired results.

There is no limit to the number of treatments that one can receive as long as adequate time passes between each treatment.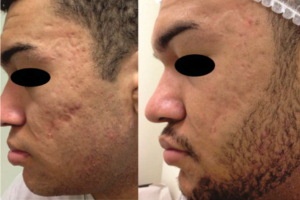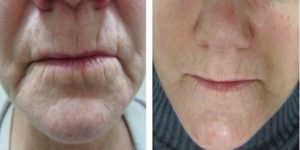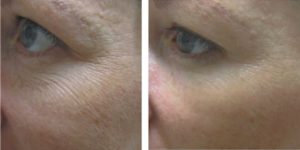 Procell creates invisible micro-perforations and stimulates cells called keratinocytes that activate the production of new collagen by stimulation, rather than damage.
While chemical peels, IPL & Laser treatments have their place in aesthetic skin care, they all produce improvement by injuring the skin to cause healing repsonse.
Procell is unique in that it stimulates improvement by the stimulated release of epidermal growth factors with virtually no damage to the skin.
The treatment produces a clinically significant increase in the production of new collagen and elastin through the release of these powerful growth factors and cytokines.
Procell produces maximum stimulation, with minimal inflammation. This balanced approach to skin rejuvenation reduces recovery time to near zero, while maximizing results!
You'll experience an immediate improvement in skin tone, texture, laxity, fine lines and wrinkles. And you'll see long term improvement that really last when you complete a series of treatments as recommended by the skin care professional.
Procell can dramatically improve your skin's firmness, smoothness, elasticity, hydration, sensitivity and tone.
Visible improvement in aging skin, acne and other scarring, uneven or hyper-pigmented skin & overall tone and texture are real with Procell. And with our expertise, we can show you how to make those results last!
Contraindications: Relative contraindications include: keloids or raised scarring; history of eczema, psoriasis and any other chronic skin conditions; history of actinic (solar) keratosis; history of herpes simplex infections (cold sores); diabetes; high blood pressure, pregnancy, presence of raised moles, warts or any raised lesions on the area to be treated. 
Let me show you how to get those results!
There is a one time treatment to try Micro-Needling  – Special $175.00 – Also, you will receive a FREE one week supply of the Cellular Renewal Serum and Healing Accelerator Serum. 
Series Special: Regular $250.00 per treatment – Special $200.00 per treatment. Also FREE Anti-Wrinkle Mask to use at home 30 minutes after the treatment (while supplies last).
Add on the NEW DermaPaddle Dermabrasion $25.00 – This paddle is newly patented technology to assist in easily performing Procell Dermabrasion. The DermaPaddle exfoliates the epidermis in a massage like manner to gently remove the outer layers of the stratum corneum, allowing for better penetration of the serum. This is done before the Micro-Needling.

Add on the NEW Celluma LED Light $25.00 – 30 Minutes under Light Benefits of the LED Photo-therapy is to improve cellular performance, healing and anti-inflammatory, increase circulation, accelerate tissue repair, kill acne bacteria, decrease inflammation, improve skin tone and clarity. This is done at the end of the Micro-Needling.

Aftercare: The Medical Strength Cellular Renewal Serum and the Healing Accelerator Serum ($275.00) are as important as the treatments. They are designed to maximize positive regrowth. They are used in the morning and evening.
Cellular Renewal Serum: – main ingredient is Stem Cytokines obtained from adult human bone marrow stem cell cultures. When applied to the skin, the skin mimics the effect of having more stem cells (we lose most of them as we age so that by middle age only a few percent remain compared to our youth). The serum supports cellular renewal and has potent regenerating properties to improve skin firmness, elasticity and tone. Fine lines and wrinkles diminish over time and skin looks and feels brighter, more luminous and healthier. Apply 2 to3 pumps to face and treated area.
Healing Accelerator Serum: – Contains Stem Cytokines plus Vitamin C, E, B5 and A (Retinol). All proven to be beneficial to aging skin. Also contains powerful moisturizers and growth factors, keeping skin revitalized and healthy, while helping seal in hydrophilic active serum ingredients, further enhancing and maintaining their effects. Apply 2 to 3 pumps to face and treated areas.